It is possible to provide documents through Lizmap. To do this, you simply:
Create a directory called

media

(in lower case and without accents) at the same level as the QGIS project
Put documents in it : pictures, reports, PDFs, videos, HTML or text files
You can use subdirectories per layer or theme: the organization of

media

directory content is free.
Lizmap is using the directory for other purposes:
Then in Lizmap Web Client you can provide access to these documents for 2 things:
the popups: the content of one or more field for each geometry can specify the path to the media. For example a photo or pdf field. See

Popup

.
the link provided for each group or layer in the Lizmap plugin

Layers

tab.
Details of these uses is specified below.
Warning
Check your file permissions on the media folder. If the folder is not readable, an error will occur.
It is possible to use a relative path to a document for layers or groups link. Links can be filled with the Lizmap plugin Layers tab after selecting the layer or group. See Configure your layers for the Web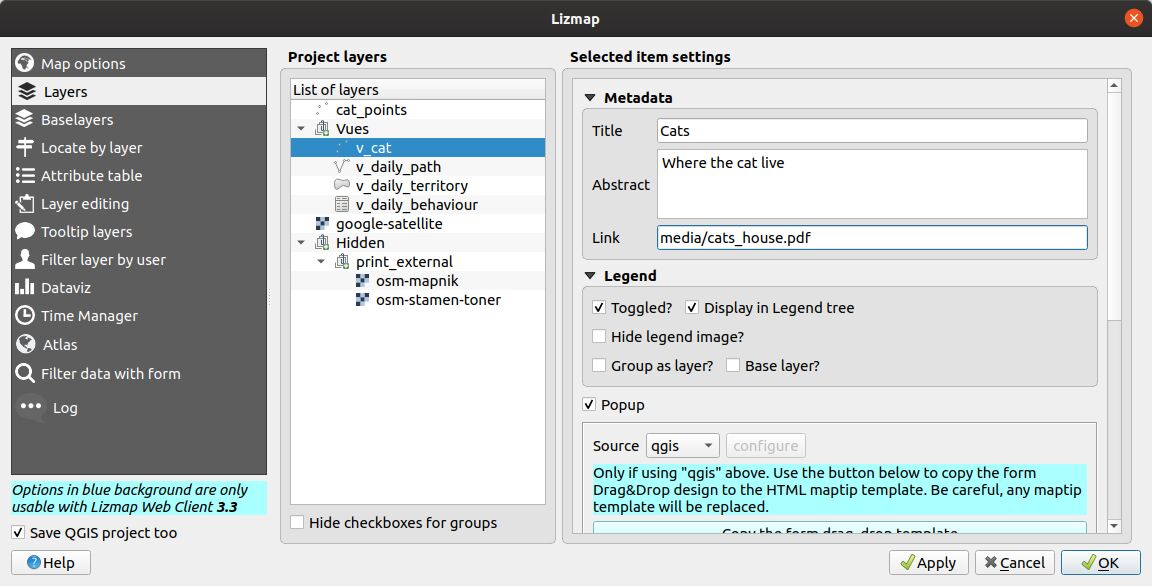 The path should be written:
Some examples:
media/my_layer/metadata_layer.pdf

media/reports/my_report_on_the_layer.odt

media/a_picture.png
On the Lizmap Web Client map, if a link has been set up this way for one of the layers, then an icon (i) will be placed to the right of the layer. Clicking this icon opens the linked document in a new browser tab.
Warning
For editing capabilities, in Layer properties ‣ Attributes Form, for the given field, you should choose Attachment widget and set the path relative to the project.
If the media is a picture, you should set the Integrated Document Viewer to Image.
It's possible to use a single media folder located in the root data folder. As the folder is located in the parent folder of the QGIS project, it's allowed to use ../media in the QGIS project, for instance in the attribute table of a layer to access a media file.
This will make files inside this media folder available for all folders, for instance for Javascript, images, PDF…
├── media
│   └── js
│   

|

    └── default
│   

|

       ├── another_script.js
│   

|

       └── one_script.js
│   └── photo_1.jpg
├── my_repository
│   ├── project_a.qgs
│   ├── project_a.qgs.cfg
│   ├── project_b.qgs
│   └── project_b.qgs.cfg
└── other_repo
    ├── media
    │   └── js
    │       ├── default
    │       │   └── script_for_all_projects_in_other_repo.js
    │       └── project_x
    │           └── script_for_project_x.js
    ├── project_x.qgs
    ├── project_x.qgs.cfg
    ├── project_y.qgs
    ├── project_y.qgs.cfg
    ├── project_z.qgs
    └── project_z.qgs.cfg