Introduction
Lizmap architecture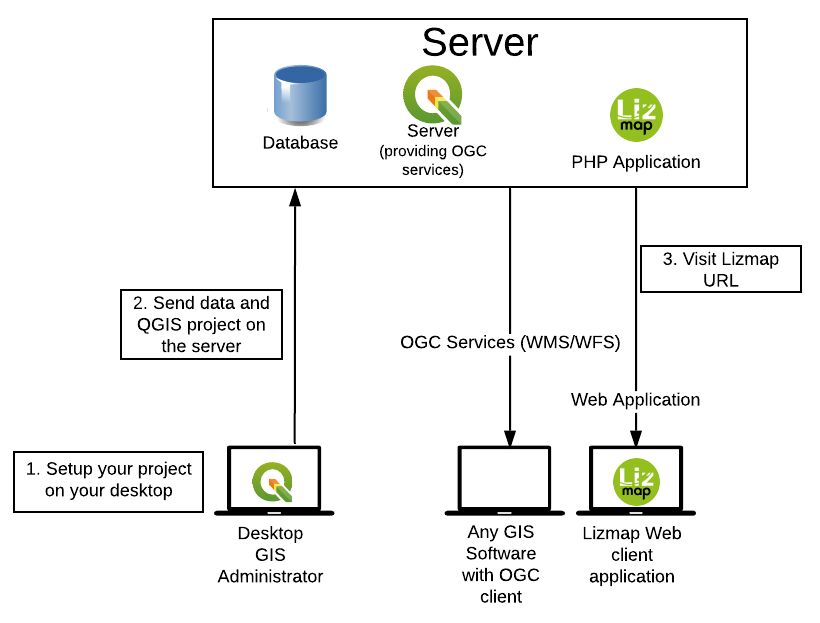 Data preparation
The map's construction work is carried on his own computer with QGIS Desktop:
loading layers,

map creation,

organising and preparing data.
Map configuration & publication
To be able to put the map online, the publisher configures publishing options (scales, base layers, metadata) with Lizmap plugin in QGIS Desktop. Then he synchronizes his working folder with his server in intra- or extranet.
Data vizualisation
When synchronization is complete, The QGIS map can then be accessed on the Internet at the same. It is available on the application Lizmap Web Client with a Web browser (Firefox, Safari, Chrome, Internet Explorer).
For more information on versions (Web-browsers, QGIS Server, PostgreSQL etc) which are supported, it's written on the Lizmap Web Client wiki page.
QGIS and QGIS Server
QGIS, a complete Desktop GIS software

Management of a wide range of data format for raster (GeoTIFF, ASC, NetCDF, etc.) and vector (SHP, TAB, MIF/MID, GML, GeoJSON, etc)

Management of key geographic database (PostgreSQL/PostGIS, Oracle, MSSQL, etc.)

Management of raster and vector layers, symbology, printing, processing

Performance and functional richness of a desktop GIS Software

Geographical standardized Web Services:

Open Geospatial Consortium, OGC, consortium for standardization of geographic information exchange through Internet

Web Mapping Service, WMS: standard for publishing map as image

Web Feature Service, WFS: standard for publishing geographic vector data

Web Coverage Service, WCS: standard for publishing geographic raster data

QGIS Server allows you to easily publish 3 types of standardized Web Services Geographic:

Install QGIS Server on a server

Configure properties of Geographic Web Services

Copy and paste the QGIS project and data files

QGIS Server and QGIS Desktop share the same rendering engine