In this panel, we can :
find some links about Lizmap social networks

be aware of a new release regarding Lizmap Web Client. Only two branches are maintained simultaneously. If you branch is not listed, it's not maintained anymore, except if you are using the master branch.

set the target Lizmap Web Client version. You will be aware which features are available or not on your server.

check your Lizmap Web Client server's version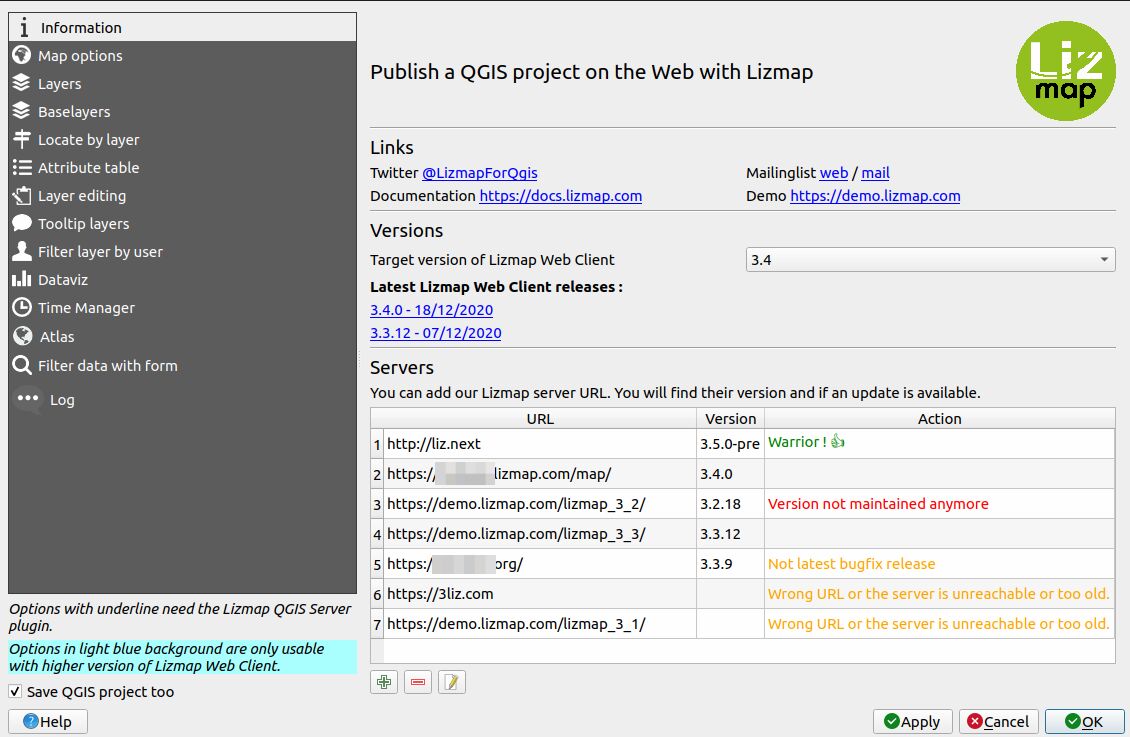 For adding a new server :

Click

Write the URL of the Lizmap Web Client server. The URL should be the main Lizmap landing page.

Write the login and password of an administrator or a publisher used in the web interface to access the administration panel. QGIS might ask you to setup the master password. It's a password to protect the QGIS internal password manager. This password is used only on your computer. The Lizmap plugin is storing the login and password in the QGIS password manager.
When requesting support on a website, it might be required or highly recommended to copy/paste versions used on your server. This helps a lot to know your environment and to know if the bug is a new one or already fixed. So you should have your server available in the table mentioned above, with an administrator login.
Then, right-click on your server, then Copy all versions in your clipboard for a support request…. You can go back on your support request and do a right click and paste.
Warning
When clicking in the QGIS plugin, you might have some actions displayed in a popup. You should check these actions, like to be sure to provide an administrator login, have QGIS server installed correctly, running a maintained version of Lizmap Web Client etc. Check your version on the release page.