Dans ce panneau, nous pouvons :
retrouvez quelques liens sur les réseaux sociaux de Lizmap

prendre connaissance d'une nouvelle version concernant Lizmap Web Client. Seules deux branches sont maintenues simultanément. Si votre branche n'est pas listée, elle n'est plus maintenue, sauf si vous utilisez la branche master.

définir la version cible du client Web Lizmap. Vous saurez quelles fonctionnalités sont disponibles ou non sur votre serveur.

vérifiez la version de votre serveur Lizmap Web Client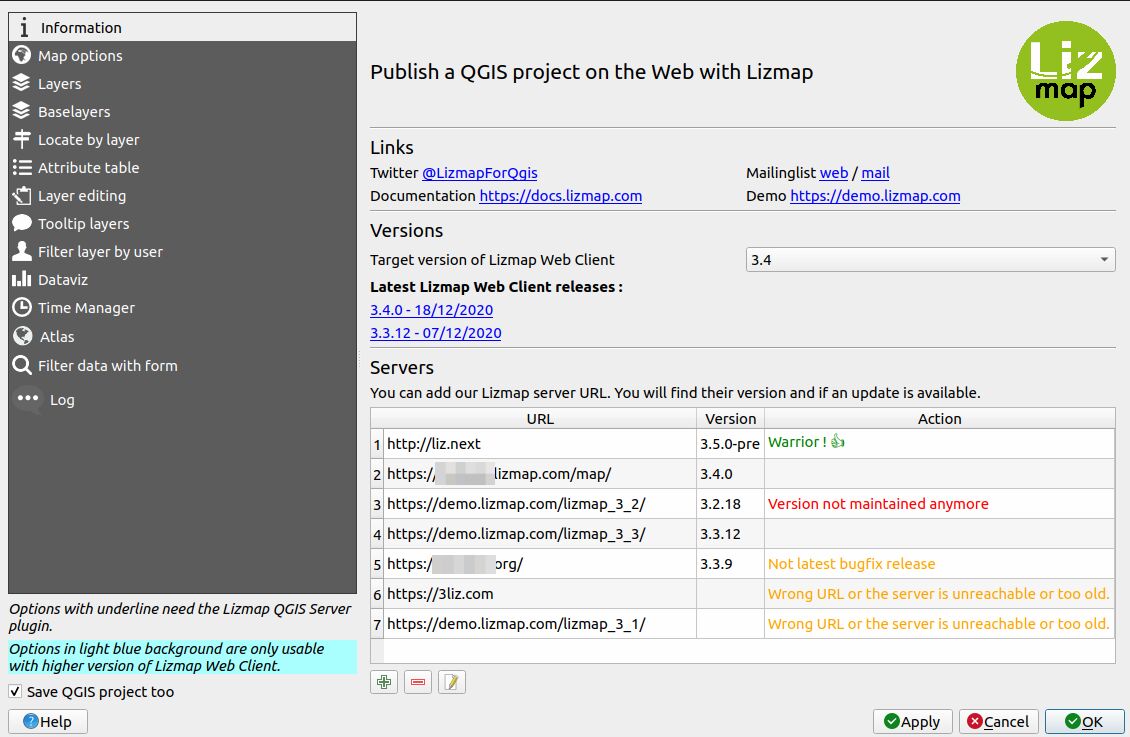 Ajouter un nouveau serveur :

Cliquer

Écrire l'URL du serveur Lizmap Web Client. L'URL doit être celle de la page d'accueil de Lizmap.

Write the login and password of an administrator or a publisher used in the web interface to access the administration panel. QGIS might ask you to setup the master password. It's a password to protect the QGIS internal password manager. This password is used only on your computer. The Lizmap plugin is storing the login and password in the QGIS password manager.
Lors d'une demande de support sur un site, il est peut-être requis ou fortement recommandé de copier/coller les versions utilisées sur le serveur. Cela aide fortement pour connaître votre environnement, si le bug en est un nouveau ou alors si il est déjà corrigé. Donc vous devriez avoir votre serveur de disponible dans le tableau ci-dessus, avec un nom d'utilisateur administrateur de renseigné.
Ensuite, faites un clic droit sur votre serveur, puis Copiez toutes les versions dans votre presse-papiers pour une demande de support…. Vous pouvez revenir sur votre demande d'assistance et faire un clic droit et coller.
Avertissement
When clicking in the QGIS plugin, you might have some actions displayed in a popup. You should check these actions, like to be sure to provide an administrator login, have QGIS server installed correctly, running a maintained version of Lizmap Web Client etc. Check your version on the release page.